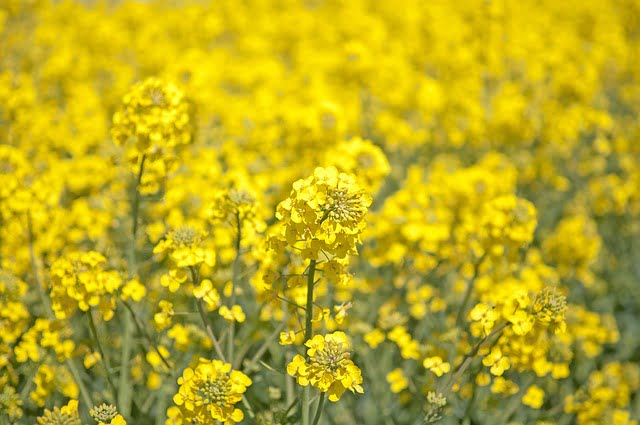 Find the latest literature from best institutes in Pakistan for Canola in Urdu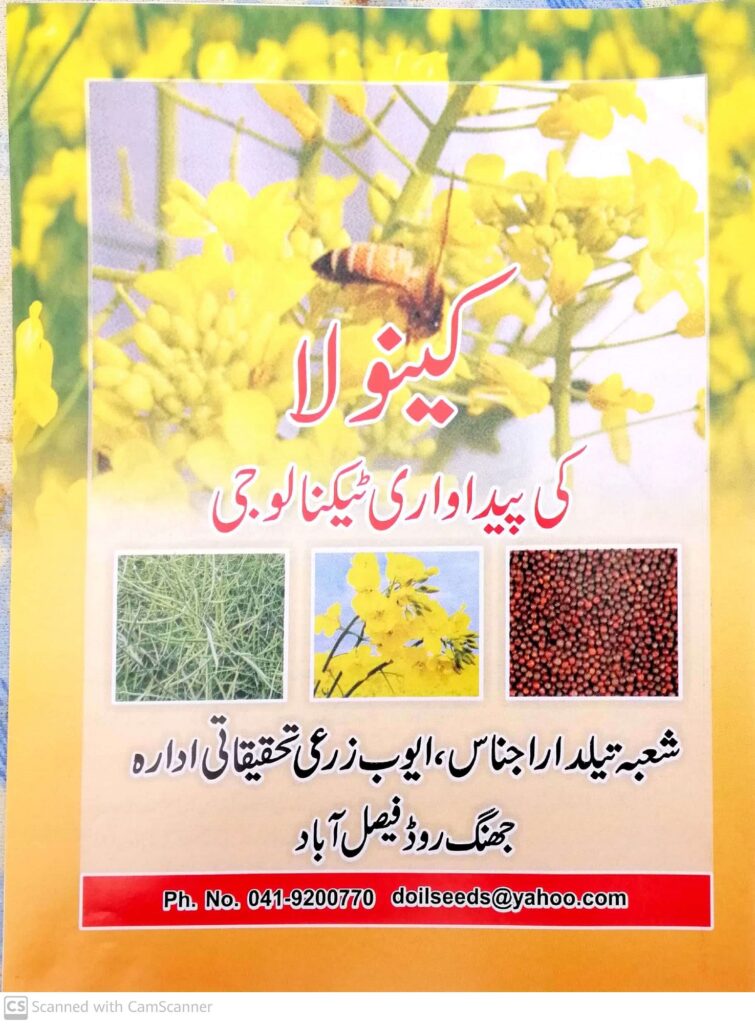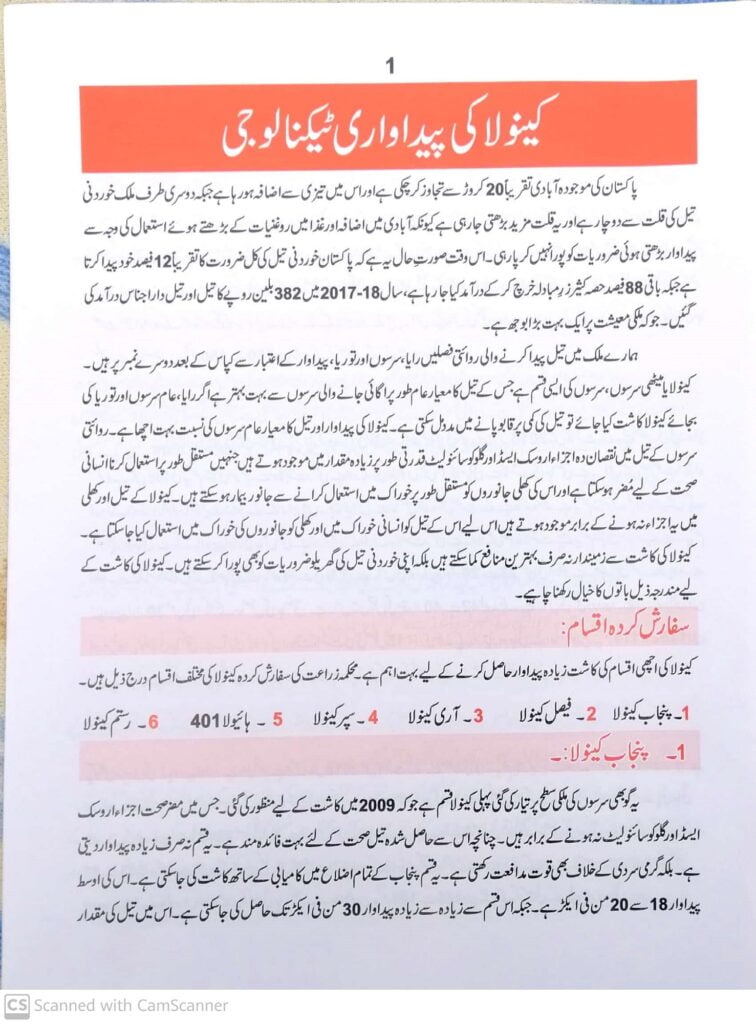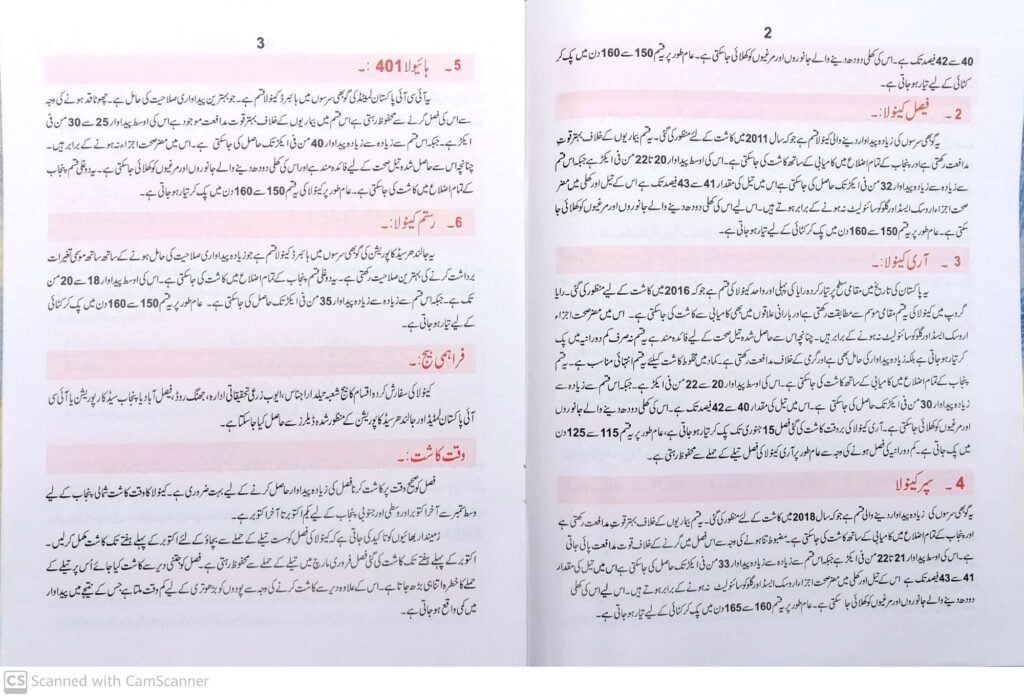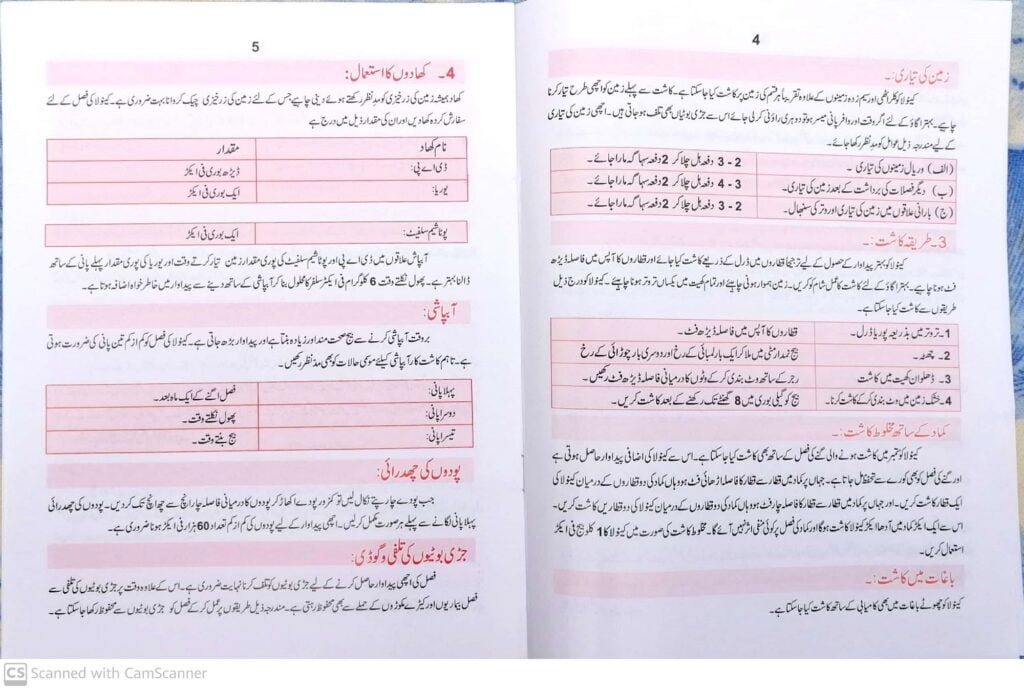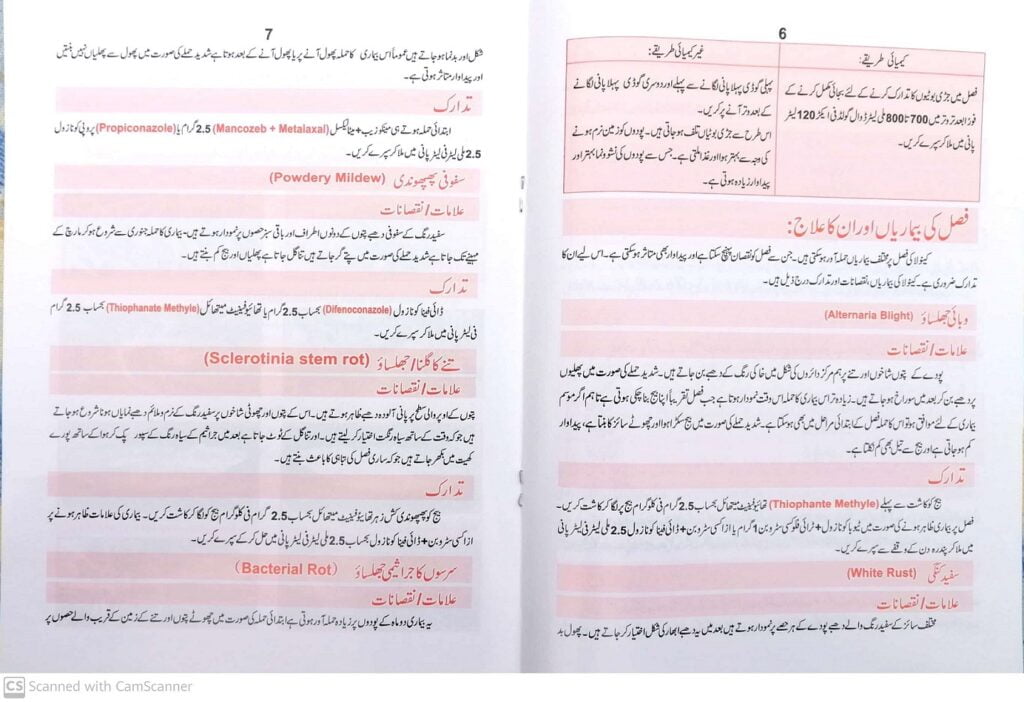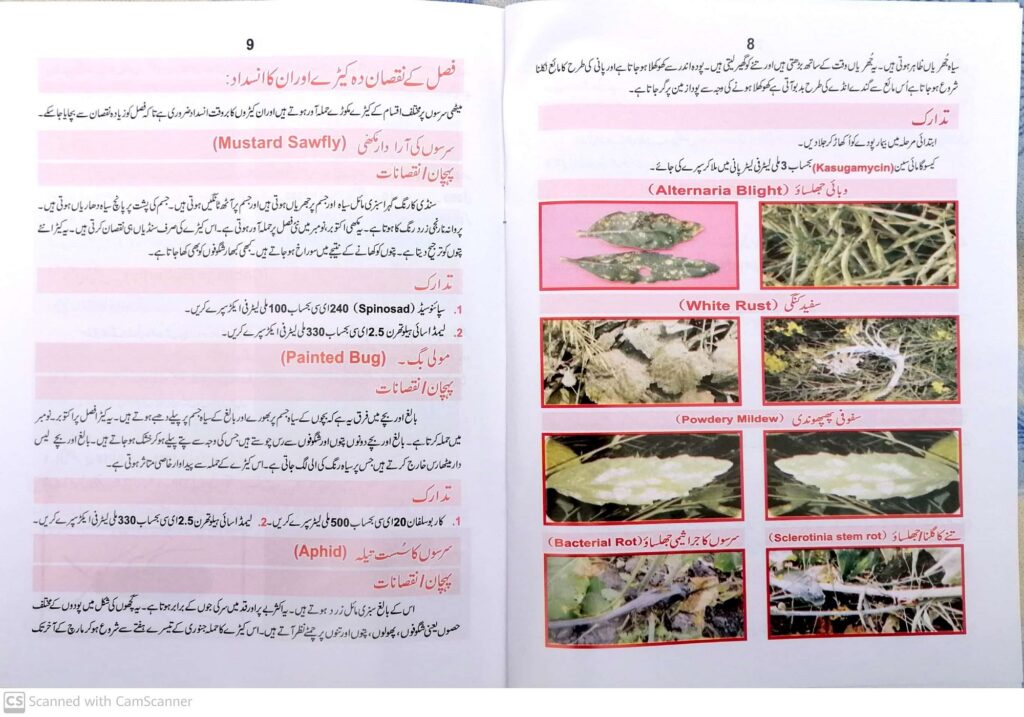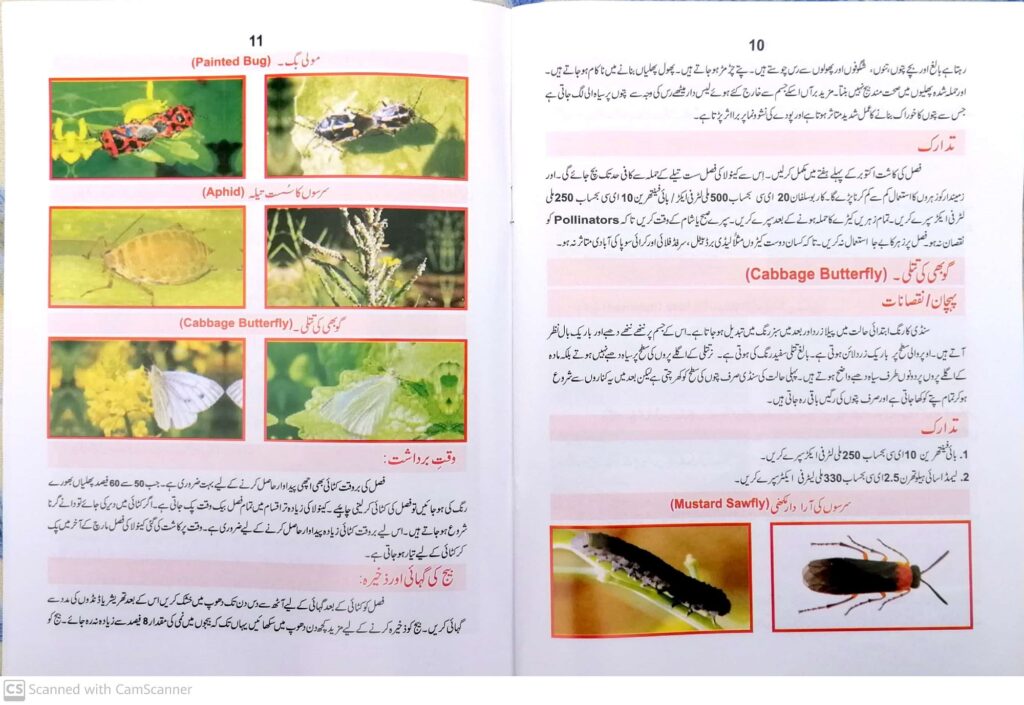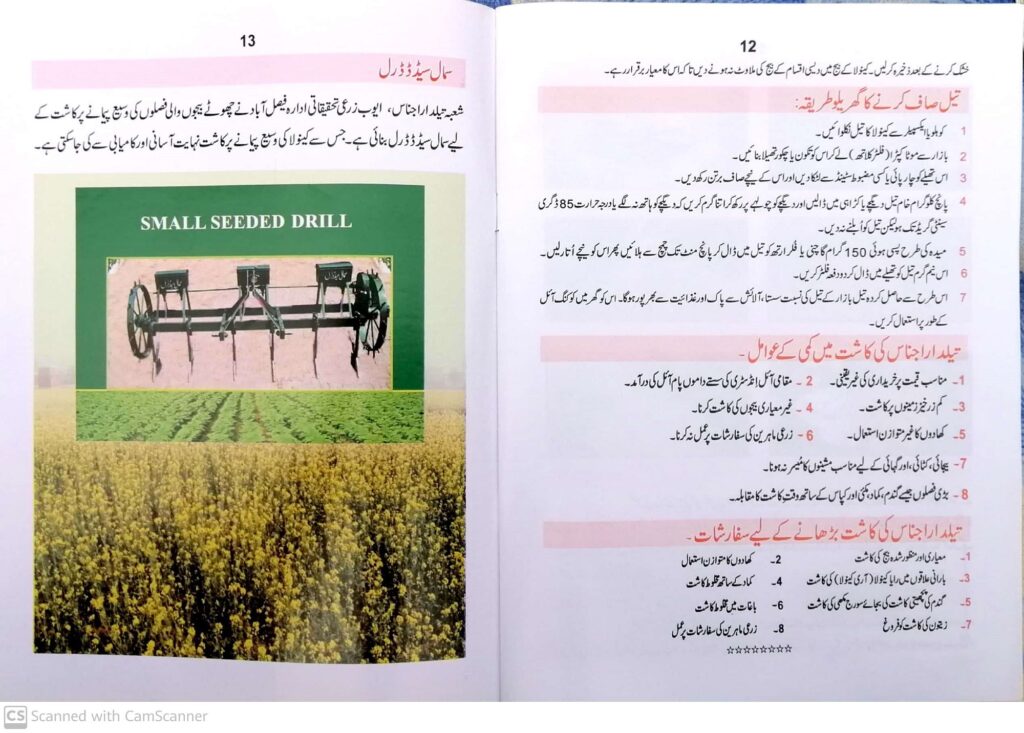 Literature 1: Canola in Urdu, Oilseeds Research Institute, Ayub Agricultural Research Institute, Faisalabad, Pakistan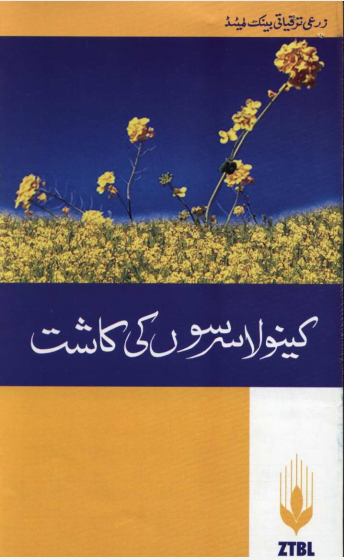 Literature 2: Canola in Urdu, Zarai Taraqiati Bank Limited, Pakistan
Canola Cultivation in Pakistan – Complete Production Technology
VARIETIES:
Chakwal Sarsoon,
Punjab Canola,
Faisal Canola,
AARI canola,
PARC Canola
Super Raya,
Khanpur Raya,
DGL.
Rapeseed ( Brassica napus L.)
Faisal Canola
Punjab Canola
Hyola 401
Rustam Canola
Mustard (Brassica juncea L.)
Seed Rate of Canola in Urdu
Sowing Time
Northern Punjab = 15 September – 30th October
Central & Southern Punjab = 1st – 30th October
Canola crop sown up to 7th October remains safe from aphid attack.
Soil Type Required
All type of Soils except Water Logged & Saline
Well Aerated and Good Drainage
pH Range = 6 – 8
Land Preparation
Well prepared , fine textured soil by
•2-3 ploughings followed by planking in fallow land
•4-5 ploughings followed by planking if sowing after harvest of crop
•Double rowny if water available
Sowing Method
1. Line Sowing with Drill:
•Row x Row distance = 1.5 feet (45cm)
2. Broadcasting:
•Broadcast seed in well moist soil in both directions
•Evenly Distribute Seed
•Light planking after Broadcast
3. Ridge Sowing
In case of late sowing:
•Prepare dry land
•Broadcast the seed
•Make ridges R x R = 1.5 feet
•Then irrigate the field
4. Intercropping in Sugarcane:
•1 row of Canla between two rows of sugarcane
•1kg seed/ acre
Fungicides for Seed Treatment
Thiofinnate methyl (Topsin M) @ 2g/kg seed
Difenconazole (Score) @ 1g/kg seed
Carbendazim 2g/kg seed
Hombre ( Tiboconazole + Imidacloprid )
Homray Super @10 ml/kg seed
Algier Super @ 9g/kg seed
Fertilizers
DAP = 1 bag (50 kg)
Urea = 1 bag (50 kg)
SOP/MOP = 1 bag 50 kg
Irrigation
First at Seedling Stage (1 month after germination)
Second at Flowering Stage
3rd at Seed Development Stage
For Barani area rainfall within 30 days of sowing and 60 days of sowing are best for its growth
Thinning
At four leaves stage before 1st irrigation
Plant x Plant distance = 4″ – 6″
Plant population must be 60,000/acre
Weeds Control for Canola in urdu
Manual weed control
1st weed eradication before 1st irrigation (Dry Hoeing)
2nd weed eradication after 1st irrigation at wattar condition
Chemical weed control
Dual Gold 800ml/120 litre water after sowing at wattar condition.
Harvesting
Harvest the crop when 50-60% seed turn brown/black in central pods at main branches
Threshing
Dry up harvested crop for 8-10 days
Thresh dry crop with thresher
Thresh crop when moisture content of the seed is 12-15%
Dry up the Threshed seed up to 8% moisture level