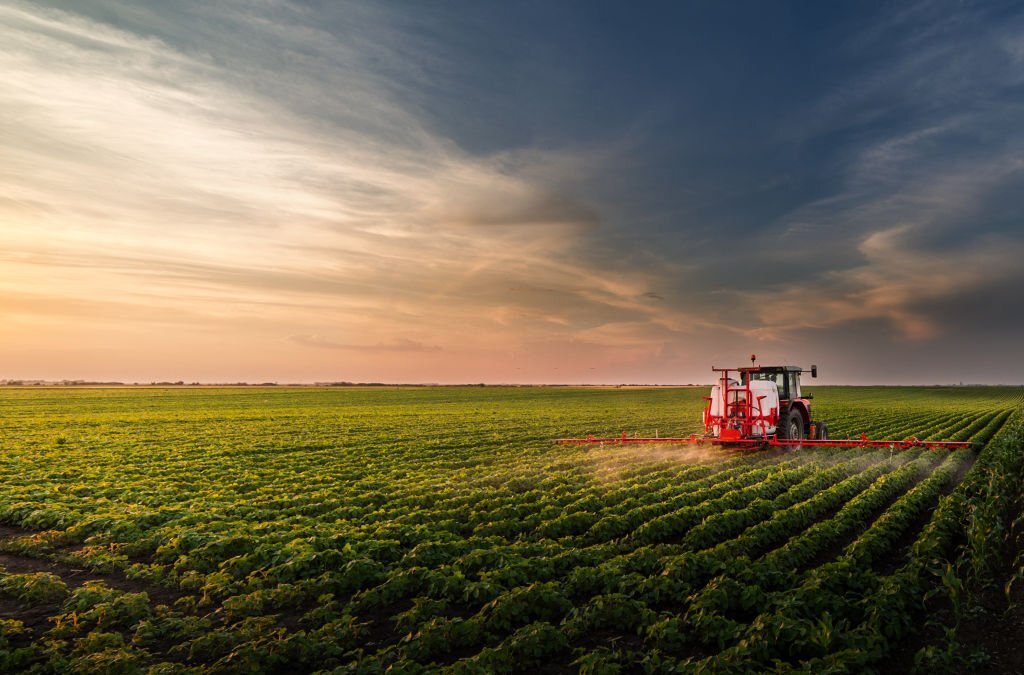 Importance of Agriculture in Pakistan cannot be neglected in the country and even in the major countries of the world as many famous fruits and other products originate from Pakistan. Pakistan's agricultural sector is comprised of four subsectors: horticulture, food and fiber crops, livestock and dairy, fisheries, and forestry. While Pakistan's agricultural sector has grown considerably in recent years due to improvements in the availability of land and irrigation water, food crop yields remain lower than those in other parts of the world. However, some recent improvements in fertilizer and irrigation methods have increased food crop production in Pakistan. Furthermore, Government is now including Mechanization of Agriculture in Pakistan in their programs and have promoted this mechanization through subsidies on Wheat, Rice, Sugarcane, Pulses implements and other General Machinery.
Major Challenges of Agriculture in Pakistan
Water resources for Agriculture in Pakistan
The majority of the water resources in Pakistan are used for agriculture. Agriculture accounts for 90 percent of the national food production, contributes to 75 percent of the country's export revenue, and accounts for twenty percent of GDP. Climate-driven water scarcity is particularly detrimental to rural livelihoods. In Pakistan, water is scarce due to its arid climate and reliance on a single river system. Agricultural production is a key driver of the country's economy, and if water scarcity causes crop yields to drop, rural livelihoods are at risk.
Although rainfall and surface water alone cannot satisfy the water demand of the plain, water resources from the ground are used for 40-60% of the irrigation requirements. The high amount of groundwater pumping is causing the groundwater table to decline to depths that are unreachable. In addition, the salinity of the groundwater is deteriorating, with saline pockets naturally forming in the shallow aquifer and the Indus river system adding up to 16.6 million tons of salt annually.
Despite the importance of water to agriculture in Pakistan, there are no comprehensive statistics on the extent of water use and availability. Unfortunately, Pakistan's population is growing at an unsustainable rate, and the amount of surface water being used and polluted is also increasing. The country's growing population will increase its demands on its water resources, and the pollution caused by the untreated sewage will only worsen. Water is also an essential resource for livestock and plants, and management of water resources in Pakistan will be important in meeting these challenges.
Surface water in Pakistan comes from incident precipitation and river flows. The mean annual rainfall in Pakistan varies from less than 100 mm in Balochistan to over 1 500 mm in the northern mountains. About 60 percent of the rainfall falls during the monsoon season, but most of the summer rain falls during the dry season and cannot be used for crop production. In addition to these seasonal rains, torrential showers and poor conveyance efficiency mean that only 43 km3 of water is available at the farm gate.
Crops
A major constraint on crop productivity in Pakistan is the scarcity of credit facilities. Inadequate loan, high interest rates, and lack of dependable credit facilities lead to inadequate crop inputs and low yields. Poor farmers lack access to formal credit and consequently use informal loans for buying the necessary inputs. Poor farmers are not able to purchase good quality inputs and thus are left with low crop productivity.
The lack of sustainable agricultural growth and stability has prompted efforts to develop and increase the productivity of crops in developing countries. The aim of this study is to estimate the growth rates and spatial heterogeneity of major food crops in Pakistan. We used regional test yields for registered cultivars to estimate potential grain yields and production levels. Our study aims to understand the factors that contribute to the productivity of major crops in developing countries. This study is based on secondary data and is the first of its kind to assess the productivity of crops in Pakistan.
Lack of good quality seed is another constraint on improved agricultural productivity in Pakistan. Insufficient seed production and seed quality are the main causes of low crop productivity in Pakistan. Hence, an improved supply of improved seed is crucial for the development of Pakistan's agricultural sector. Although Pakistan produces 40% of its seed requirements, the private sector can play an important role. Seed-producing companies should form an alliance with agricultural biotechnology research institutes to develop new seeds for the country's farmers.
In the last decade, genetically modified (GM) cotton has been grown in Pakistan. The adoption of Bt cotton has led to positive impacts on food security and dietary quality. GM crops can also act as a panacea against malnutrition. In addition to Bt cotton, research institutes in Pakistan have focused on herbicide and insect-resistant crops. Climate change-resistant crops are also being developed. However, these crops are not widely available in Pakistan.
Exports
The agriculture sector in Pakistan is currently in transition from supply-led production of staple food crops to demand-driven high-value agriculture. In order to achieve this, the country must adopt good agriculture practices, increase SPS standards, and develop traceability regimes. The agricultural sector must also develop specialty products, including high-value added products, for the mainstream export market segment. This article will examine the factors that will drive the shift in the country's agriculture sector.
The agricultural sector in Pakistan has a significant share of the country's GDP and contributes 5pc of the country's export proceeds. Imports of poultry and meat are heavily subsidized in Pakistan, and these products are blocked from exporting to the EU and the world's largest markets because of traceability requirements. While the poultry industry has grown exponentially over the past decade, Pakistani producers face limited incentives to compete in the export market.
With its growing population and limited local manufacturing capacity, Pakistan's agricultural sector is becoming a key exporter of goods to the world. It has introduced 57 new varieties of high-yielding wheat and disease-resistant maize, and more are in development. The government's plan to diversify its economy into a more profitable sector will help Pakistan's farmers reap more profits. If you're interested in increasing your exports, consider the following opportunities.
Textiles are a major manufacturing sector in Pakistan, making textile machinery and cotton exports an important source of income for the country. However, Pakistan's production of cotton is dropping due to the lack of improved seed and effective pesticides. The country is in dire need of technology to increase yield. If you're interested in the industry, Pakistan is definitely worth a look. It's time to take action now to improve your bottom line.
Land reform
In 1970, the government of Ziaul Haq passed the Land Reforms Act to increase the value of agricultural land. However, the reforms did not produce the desired results. The government passed two amending ordinances during this time, one of which stipulated that land surrendered to the provincial government would have priority. Another ordinance stated that cooperative farming societies and educational institutions would be exempted from the 1977 act. These were major changes to the law.
Another important factor is the speed at which land reform is implemented. It is better to implement land reform if it is done quickly. But before land transfers can begin, it is necessary to remove tax and market distortions. This may be easier to achieve if the land transfer process is fast. However, the government should avoid imposing the maximum amount of land in a given area. That would result in an uneven distribution of land.
While traditional land reforms are important, they also have disadvantages. The first disadvantage is that these reforms are expensive, particularly when it comes to land. However, the benefits are well worth the costs. Besides, they would increase the size of the farm and improve the productivity of the agricultural system. Aside from the obvious benefits of reforms, a land ceiling also prevents land from being sold at a higher price.
Despite these challenges, the government is still committed to carrying out land reforms. The federal Shariat Court recently declared mandatory land redistribution as an affront to Islam. This ruling reflects the general global trend against socialism and neoliberal structural adjustment programs. Land reform is only the first step in agrarian reform. The left is committed to this goal, but it must also include concrete programs to improve food security and food sovereignty.
Importance of Agriculture in Pakistan
If we take a closer look at the economy of Pakistan, we will see that it owes much of its success to the agricultural sector. In fact, agriculture in Pakistan contributes 18.9 percent of the nation's GDP. Agriculture also provides food, sugarcane, rice, oil-seed, meat, and milk for various agro-based industries. This industry also generates significant tax revenues for the country.
Agricultural sector contributes 18.9 percent to Pakistan's GDP
Agriculture is a vital part of the economy and occupy nearly a third of the total land area in Pakistan. With over 207 million people, agriculture provides the majority of non-urban populations with a livelihood. Pakistan is highly dependent on agriculture, and the sector contributes nearly 18 percent of the country's GDP. It also provides the nation with much of its foreign currency, mainly through export of farm produce.
The Agricultural sector is one of the major sectors of the economy in Pakistan, contributing about 42.3 percent of the workforce and contributing nearly 18% of the country's GDP. It has been planned to contribute to this growth, aiming for agricultural-led growth to ensure economic stability. The present study examines the nexus between various sub-sectors of agriculture, as well as their relationship with other sectors. The data on key variables have been collected from the State Bank of Pakistan, the World Development Indicators Database, and the Economic Survey of Pakistan.
Although the sector is still struggling to recover from the devastating crop of sugarcane in 2018, recent improvements in the area under cotton and rice production suggest that it is catching up. Despite its sluggish growth, agriculture contributes 18.9 percent to the country's GDP and absorbs 42 percent of the nation's labor force. Furthermore, with a population growing at 2.4 percent per year, this sector is vital to the nation's economy.
It provides food, sugarcane, rice, oil-seed, meat and milk to various agro-based industries
Food is one of the most important commodities in the world. It is the source of life and is essential to the survival of all people. Agriculture accounts for 4.3% of the world's GDP and provides health and security to a billion people. It is also a major contributor to international trade, exporting staple food items such as wheat, sugarcane, and corn. Recent challenges in the agriculture sector include global warming, COVID-19 pandemic, and the Ukraine-Russian war.
The world's subtropical climate makes it an ideal location for growing agricultural products, such as sugarcane and rice. In fact, milk is the second-largest crop in Germany, with a market value of 12.9 billion US dollars. In contrast, the New Zealand dairy industry produces over two million tons of milk each year, and exports it worth $7.8 billion in the United States. Importance of Agriculture in Pakistan.
Pakistan's agro-based industries are growing in size and importance. In the year 1999-2000, agriculture in Pakistan generated about 25.9 percent of the country's GDP. It employs nearly half of the labor force and contributes a large percentage of foreign exchange. The largest irrigation system in the world and the nation's two-season crop cycle mean that the country's agriculture industry is highly dependent on its vast agricultural resources. Agriculture provides the country with food, sugarcane, rice, oil-seed, meat and milk to various agro-based industries in Pakistan. Importance of Agriculture in Pakistan.
It raises tax revenue
Agricultural exports generate about 20 percent of the total tax revenue in Pakistan. This sector contributes 19.2 percent of the country's GDP. While other sectors contribute less, agriculture accounts for a significant share of the country's overall tax revenues. The agriculture lobby is influential in both the national and provincial assemblies. As such, it is important to address the taxation issues of the sector. This article will discuss the taxation problems of the agriculture sector.
One of the biggest challenges in assessing taxable income from agriculture is the lack of records. Agricultural taxation in Pakistan requires provinces to introduce a fair system of direct taxation on agricultural exports. Such a system should target large landowners and large businesses. This could significantly increase the government's tax revenue and solve the nation's fiscal imbalance.
Although agriculture generates less than one percent of the nation's total tax revenue, it accounts for over 40 million individual bank accounts. The country's tax system is not very progressive. Agriculture contributes only 0.4 percent of the total tax burden, whereas income tax collections in other emerging economies are as high as 90 percent. Because the sector employs 45 percent of the country's workforce, it is difficult for the government to tax it more fairly. Importance of Agriculture in Pakistan.
It is a major source of income
According to the latest Labour Force Survey by Pakistan Bureau of Statistics, agricultural activities account for 39 percent of the total labour force and provide 18.5 percent of Pakistan's GDP. Pakistan's agricultural sector accounts for nearly half of the country's total land area, of which 22.1 million hectares are cultivated. The remainder of the country's land area is comprised of culturable waste, densely populated forests, and rangelands. Agricultural production is affected by the lack of inputs, appropriate technology, and water availability. It also suffers from insect pest control, with farmers using unwisely applied synthetic chemicals.
While many countries are attempting to protect their forests, Pakistan remains a net exporter of cotton, rice, and wheat. In 2010, the country produced 9.8 billion bales of cotton and 4.3 million tons of rice. The government exports these crops in exchange for foreign exchange, which is used to buy automobiles and machinery and improve the economy. However, the government has yet to fully protect the country's forests.
While agriculture is an important source of income for rural households in Pakistan, it is also a crucial means of supporting the livelihoods of most LDC's. The country's agriculture sector provides employment and income for the vast majority of its population, and is the largest single industry in Pakistan depicting the Importance of Agriculture in Pakistan.
It is underutilized despite the importance of agriculture in Pakistan
Despite the importance of agriculture in Pakistan, there are many factors that make agriculture in Pakistan underutilized, from the inefficient use of available water to poor soil conditions. In fact, 60% of Pakistan's land area is underutilized, and a lack of investment and innovation in this sector is the root cause of the country's chronic food security problems. While this lack of investment has hindered the growth of the sector, the government has taken numerous measures to improve the state of its agriculture industry.
For example, GB is a major producer of fruits and vegetables. Lack of storage facilities and poor packing systems result in a high proportion of post-harvest losses and wastage, especially for perishable commodities. Farmers in the region feed harvested food to livestock to sustain their livelihoods. Additionally, a lack of marketing infrastructure and poor storage facilities lead to stagnant production of crops and nuts, and disease and water stress reduce the quality of these crops.
The country's total land area is only 28% irrigated, and the country lacks efficient water management systems and infrastructure to make it productive. Meanwhile, crop yields in Pakistan are abysmal – at just two metric tons per hectare – compared to the global average of four metric tons per hectare. Lack of quality seeds is another issue.
It is a sector with pronounced but invisible hand of women
Women make up nearly half of the population of Pakistan. Despite being the most productive economic labor force, women far outpace men in agricultural activities. This unequal distribution of labour force is the result of Pakistan's socio-cultural set up, which fails to recognize the role of women in agriculture. While government policy for agriculture is based on physical inputs, it fails to consider the social and human dimensions of agriculture.
While the recent increase in local wages has helped farmers earn more money, it has not changed the employment sectors for women. In fact, when local wages increase, men are more likely to move to non-farm occupations. Men, on the other hand, continue to earn less and remain in the farming sector. In addition, women farmers tend to have more responsibilities than men. The resulting imbalance in employment opportunities exacerbates the gender gap.
The disproportionate participation of women in agriculture is not an isolated phenomenon. In Pakistan, women make up 66% of economically active manpower. Owing to the agriculture sector, women perform various jobs, while men contribute to the most physically demanding and distantly located jobs. However, new tools may reassign women's jobs to men.
This shows the importance of Agriculture in Pakistan
Mechanization & Its Importance of Agriculture in Pakistan
It is necessary to develop a comprehensive strategy for mechanization of Agriculture in Pakistan. This should include developing long-term policies and strategies in collaboration with provincial authorities. In the short-term, an analysis will be conducted to determine the preliminary demand. The analysis will help determine the product specification and infrastructure required for adoption of the agricultural machinery. The short-term plan will then be elaborated by a multidisciplinary team. The process of developing a comprehensive strategy for agricultural mechanization in Pakistan will involve identifying the specific needs and prospects of the agriculture sector.
The research is based on a survey of 305 wheat-producing households in the Punjab province. The results revealed that most farmers would like to adopt agricultural machinery. The research also highlights the benefits of small-scale mechanization for Pakistan's agriculture sector. Here are some examples of small-scale mechanization projects in Pakistan:
The analysis of mechanization planning includes quantitative evaluation of the mechanization index and an assessment of economic factors. To achieve this, an AHP (Analytical Hierarchical Process) matrix was created. The matrix includes internal and external factors that affect agricultural development. Using a TOPSIS (Technique for Order of Preference by Similarity to an Ideal Solution) analysis method, final strategies are extracted. When the evaluation is complete, an assessment can be made of the most appropriate strategy for Pakistan.
The government is considering creating a High Powered Farm Mechanization Board. The board should consist of 4 permanent secretaries in the Ministry of Agriculture, Production, and Industry, as well as representatives of manufacturing companies and knowledgable individuals. The Board would help remove obstacles to a wider adoption of agricultural machinery in Pakistan. In other words, agricultural mechanization in Pakistan should be given serious consideration.
Subscribe for notifications at fasalbachao.com